In the unassuming village of Maynooth, there's a corner store that has stood tall for over a century. Upon first glance, the average passerby might not think anything special of it, but this landmark is oozing with history and its walls have stories to tell. Days ago, we had the chance to chat with the shop's owner for the past 35 years, Carla Van Balen Walter, who tells us of the store's peculiar past.
Carla Van Balen Walter has lived in Maynooth Ontario for 35 years where she has managed the Maynooth General Store for just as long. Since then, she has raised two children with her husband and has become an instrumental figure in the community. Every day, people rely on the shop for their groceries, gifts, merchandise and knick knacks, but also for the reassurance of Carla's home-like cheerfulness.
Although Carla has created a life-long impression within Hastings County, her story begins overseas. She was born in Holland, and from there, attended university in Amsterdam where she studied tax law. While in school, she met her husband, but they both found they weren't too keen about their studies, she tells us. Years later, her father-in-law presented her a certain opportunity to run a store in Ontario, Canada. The rest, she says, is history.
"My husband and I moved straight from Amsterdam to Maynooth in the end of 1986. I had never been out of Europe before that, so I had a lot of homesickness at first."
As expected, there were many adjustments to be made and lots of work to be done in their new home. Carla and her husband had left behind the bustling city of Amsterdam for the ultra-quaint village of Maynooth, which was a logging community at the time.
Speaking of logs, they were once the lifeblood of the entire northern Hastings area. In the late '80s, a large number of the townspeople worked for the local G.W. Martin Lumber Mill. The operation was a massive success until founder Grenville Martin died in a plane crash, leaving the mill to fold years later. When the mill collapsed, there was a shift in the community that presented Carla and her new shop great challenges, she says.
"When the mill fell apart, there was no other employment here at the time. Maynooth was sort of spiraling downhill until bigger big-box stores started opening up in Bancroft. These shops provided people more employment but gave my shop some competition too."
From there, Carla sought out to get her and the general store more integrated within the community. She pulled her weight at local chamber of commerce meetings, made vast improvements to the store and aimed to put Maynooth on the map. Her husband began operating the local gas station next door to her shop, and across the street, legendary pub + hostel The Arlington was still the best place in town to grab a drink.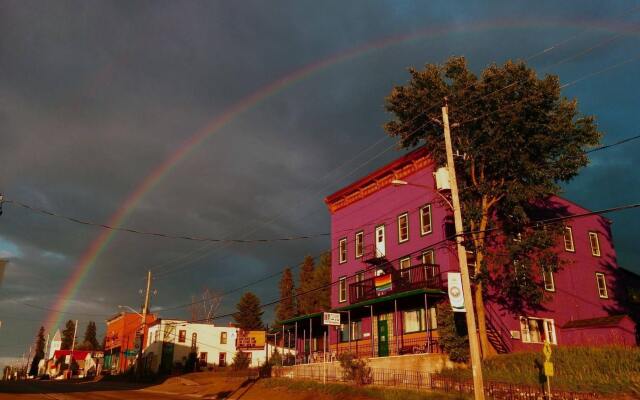 "I was involved with the chamber of commerce in Bancroft and became vice president there. After a while, it became clear that if nobody was representing Maynooth at the chamber of commerce meetings, you didn't have much to say in what happened. So, myself and a bunch of people organized the Maynooth Business Association, which is now 30 years old. We started organizing within the community and hosting events, like Maynooth Madness, which celebrated 30 years itself in 2019," she says.
During Carla's journey to establish her shop as a landmark in Hastings County, she has had to make several key adjustments. To get with the times, that meant gaining a loyal following on social media as well as frequently adjusting her store's stock to the ever-changing outside world. When COVID-19 hit, the shop was able to stay essential because of their grocery selection. As more travellers continue to roll through Hastings County, she has stocked up her shelves with trendy Maynooth merchandise. But the greatest challenge of all, she says, has been dealing with larger companies who are hesitant to work with them because Maynooth is located far from any major city.
Despite the struggles along the way, Maynooth General Store gradually became a Hastings County hotspot. From her own little space on the corner of Highway 62, Carla has seen and heard it all. She recalls memories of children carolling loudly inside of her shop to the point where the entire town came in to join the sing-a-long, seas of motorcyclists travelling through the town, and customers with distinguishable fashion choices:
"The people that come in really blow your mind. I had this one lady, Penny was her name, who came in with a duck on her arm and a gigantic bow on her head. She just walked around as if everything was perfectly normal."
But within Maynooth General Store, the greatest memories have been the most ordinary, down to Earth situations. Phone calls and daily affirmations are what fuels business, says Carla.
"People phone me all the time to see what the weather is like if they're planning on being outside. People will ask me for things as simple as home addresses, too. Also, just for connecting people and getting relationships started. It's small-town living at its finest … It's sort of like a big family, " says Carla.
These days, it would seem that everything is coming up Maynooth. Largely due to Carla and her team's efforts, the town recently received grant money that helped to lend Maynooth a new town office, a state-of-the-art library, a gym, and a revitalized main road.
One quick conversation with Carla would assure you that she's more than just your average shop-owner. She's an integral part of Maynooth and is an example of a standout entrepreneur who made a name for herself in Hastings County.
"We got involved in our community, started a family, and put a stamp on a town we believed in. That just wasn't possible where we came from."
MORE INSPIRING ENTREPRENEURS: