This region is known for its excellent fishing. Visitors come to fish in Hastings County year-round in one of our 180 lakes and countless streams, smaller ponds and bogs, as well as marinas and fishing outlets.
Hastings County also hosts four major rivers: the Moira, Crowe, Black and York rivers, and an abundance of forests and wetlands which provide valuable wildlife habitat.
If you are looking to spend the day on the water, review the map below to find municipal boat launches. Please follow Public Health and other government regulations while using these locations, including physical distancing.
In addition to municipal boat launches, the Ontario Ministry of Natural Resources and Forestry identifies further access points on the "Fish ON Line" website. Just zoom to the area you are interested in and turn on the 'Fishing Access Points' under Map Options as displayed below.
Fish All-Year Round in the Municipality of Tweed
Try your luck fishing in the Municipality of Tweed, known as a popular sport-fishing destination for their black crappie. You can go fishing (all-year round) on their many rivers, lakes and streams, and enjoy the serenity of the outdoors.
FISHING OUTFITTERS
Chris' Live Bait, located at 17 Marmora Mine Road, is a family-owned business offering a one-stop shop for all your fishing and hunting needs. Their specialty is live bait! They provide various sizes of minnows whether you enjoy fishing in the summer, winter or all year round!
Fish & Co. has both a storefront downtown Madoc, ON and an online store (www.fishandco.ca) so you can shop from the comfort of your home. This outfitters offers a little bit of everything from fishing tackle, rods and reels to apparel and cottage decor.
Mack Attack Outdoors can be found downtown Bancroft at 44 Hastings Street North, and has everything a fisherman or fisher-woman could dream of! From apparel to fishing gear and specialty lures, add this shop to your list of must-sees on your way to the lake.
Moira Lake Ice Hut Rentals
Ready to experience a true Canadian winter tradition? Rent a warm and cozy ice hut from Moira Lake Ice Hut Rentals, located in Madoc, ON. Enjoy a fishing getaway with friends and family this winter. When you arrive the fire will be started, holes augured, minnows provided and ample wood to burn to keep you toasty. The only thing missing is a mug of hot cocoa and you!

FISHING GETAWAYS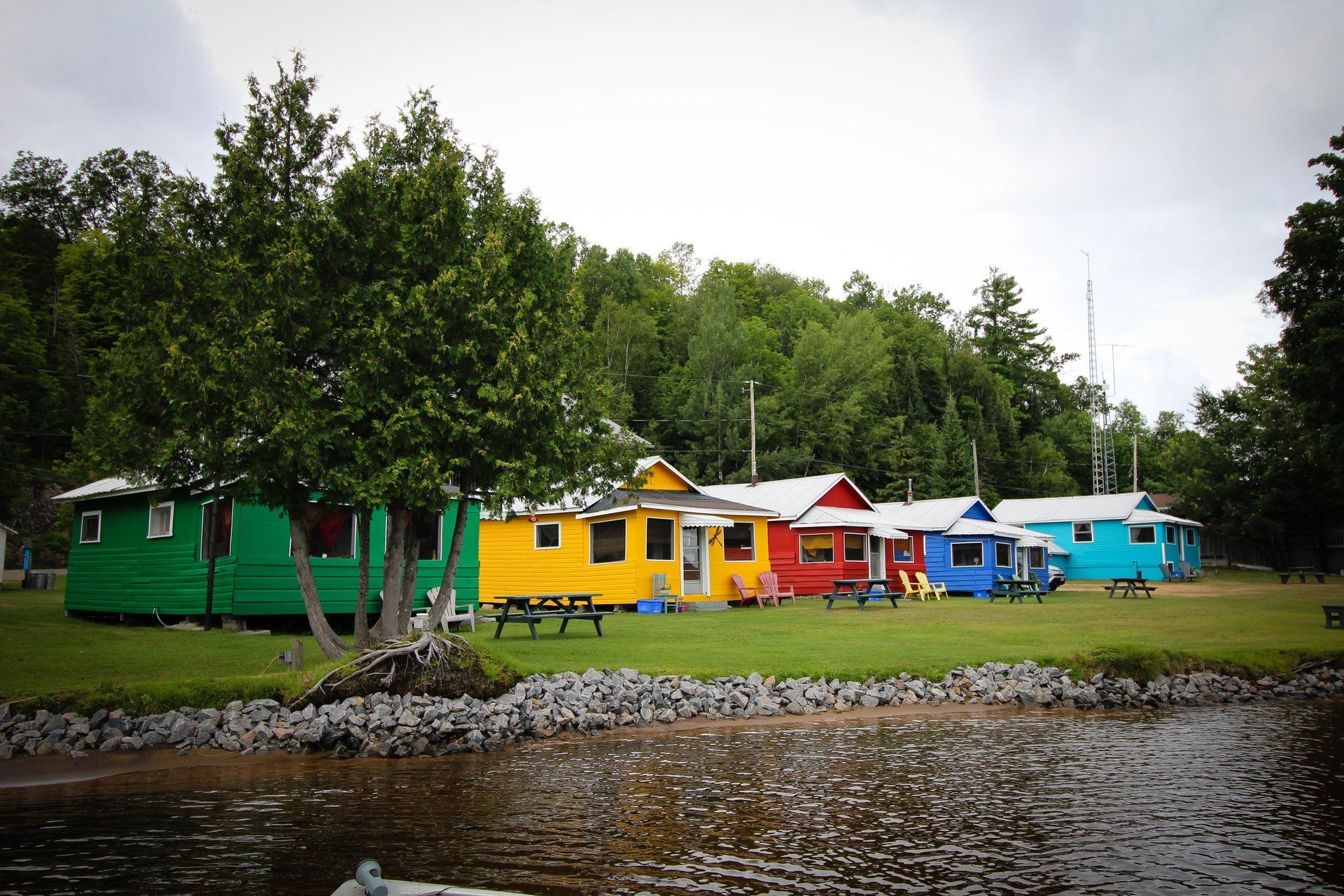 Belcast Cottages are located in the heart of cottage country on the beautiful Baptiste Lake in Maynooth, ON. Each cottage rental comes with dock space for one boat and a screened in porch with a picturesque view of the lake. They also operate a General Store on-site, opened seven days a week.
Baptiste Lake has over 50 km of waterways connecting Elephant and Benoir Lake. Fish species include Lake Trout, Muskellunge, Small-mouth Bass, Large-mouth Bass, Rock Bass, Crappie, Pumpkinseed and Walleye. There is a public boat launch located just down the road and a marina on the lake, giving you easy access to get your boat on the water. Need a boat? Belcast Cottages offers a boat rental too!
Play and stay on the same lake with Limerick Lake Lodge & Marina. This lodge offers cabins and camping, boat rentals and docking slips, as well as gas station to fill up. Come and experience the best bass fishing, and ATV trail riding in south-eastern Ontario.
Want to have your business featured on our website? Let's us know about your business by emailing tourism@hastingscounty.com.